Unique ground tracking: ALPHA MOTION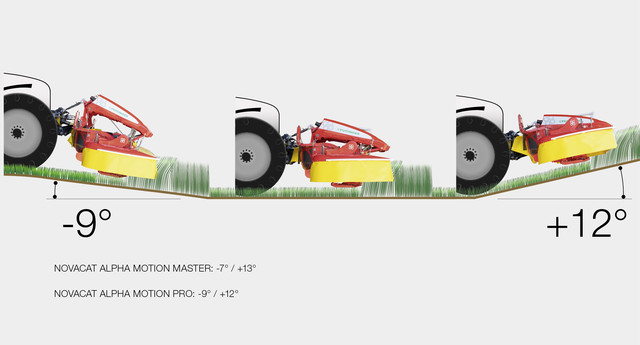 Unique ground tracking
ALPHA MOTION trailed front technology is characterised by the sophisticated kinematics of the active support frame. Compared to other mounting systems, not only do the guide arms respond to every undulation of the terrain, but also the mounting frame itself. As a result, the cutter bar inclines upwards over bumps and slants downwards into dips. The result: Clean forage. You benefit from a consistent cutting height, which leads to uniform growth and ultimately to higher yield for you.
The ultimate headstock
Two large suspension springs are integrated into the headstock. These react quickly to any bump in the ground, which means that weight alleviation remains the same over the mower's entire working distance. This ensures uniform pressure on the ground – and protects your soil in the best possible way.
You can hitch up these mowers to any tractor starting at 55 hp, regardless of tractor make and type. The centre of gravity is close to the tractor in all working positions. You mow smoother as a result.
Ihre Vorteile durch ALPHA MOTION
Einzigartige Querpendelung
Aktiver Tragrahmen und Zuglenker führen den Mähbalken perfekt über jede Bodenunebenheit: Mähbalken wird bei Bodenerhebungen zusätzlich nach oben gezogen, bei Senken nach unten geführt.
Mähwerk bewegt sich nahezu vertikal, sorgt für kurze Schiebewege an der Gelenkwelle und wesentlich geringere dynamische Lasten.
Einzigartige Querpendelung von + / – 16° durch Kugelgelenke in den Lenkern.
Zwei groß dimensionierte, reaktionsschnelle Federn im Anbaubock: Nahezu gleichmäßige Entlastung über gesamten Arbeitsweg. Höhere Fahrgeschwindigkeiten ohne Abheben des Mähbalkens möglich.
Große Bodenfreiheit von 350 mm am Vorgewende und in der Transportstellung: Erleichtert zerstörungsfreies Überfahren von Mähschwaden und den Transport auch auf unebenen Wegen.
Perfekte Sicht vom Traktorsitz auf die Mähfläche durch schmalen Anbaubock.