Three-point pivoting headstock with stabiliser struts
Thanks to the three-point pivoting headstock, your rake will follow in the tractor's tracks without swing-out. The stabiliser struts on both sides align the machine in the central position, even when driving across slopes. The struts also stabilise the TOP rake when it is lifted and during transport. The transport interlock enhances your safety on the road. You can adjust the brake on the stabiliser struts at any time. On the TOP 342 and TOP 382 the headstock with stabiliser struts is available as an option.
More convenience and time for you
During raking, just a few millimetres are decisive for your forage quality. A range of adjustments help you to quickly and easily find your ultimate working setting.
Technology that is quick and easy to set up
The working height is adjusted in the standing position using a hand crank. This is easily accessible and maintenance-free.
The inclination of the tandem axles is easily adjusted using the offset bolts on the wheels.
The swath curtains can be adjusted to match the quantity of forage and the desired width of the swath. A spring-loaded strut makes it easy for you to lift the swath curtain. Hydraulic lifting controlled conveniently from the tractor seat is also available as an option.
Narrow and safe road transport, space-saving storage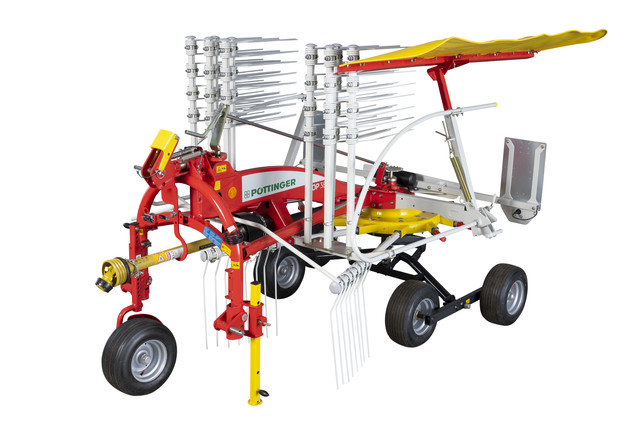 For transport on the road, simply remove the tine arms and stow them on the space-saving holders. The tines are secured using lynch pins. Fold the guard rail vertically to make your TOP ready for road transport. Warning signs and road lights are standard.
With the TOP 342 and TOP 382, you achieve a transport width of less than 3.0 m without removing tine arms.
Maximum uptime and durability